Best loved classical pieces played in the tranquil French Village lured the audience into feeling like lost in genuine Europe. For the first time, Sun World Ba Na Hills treated the audience with a fascinating and novel delicacy.
Beer Plaza in the Sun World Ba Na Hills these days was turned into a completely new world. Instead of fervent dances and ubiquitously Bavarian music of the B'estival Beer Festival as it was, the air was perfumed with melodious pieces, that range from the epic Light Cavalry Overtune, the Carmen Habanera, elegant and exquisite Pavana or the Blue Danube to soft and fleeting Salut d'Amour or vibrant Sound of Music.
 The presence of the Sun Philharmony on Ba Na Hills was comparable to a great delight and cultural novelty of great attraction in the entertainment list of Sun World Ba Na Hills this summer of 2018.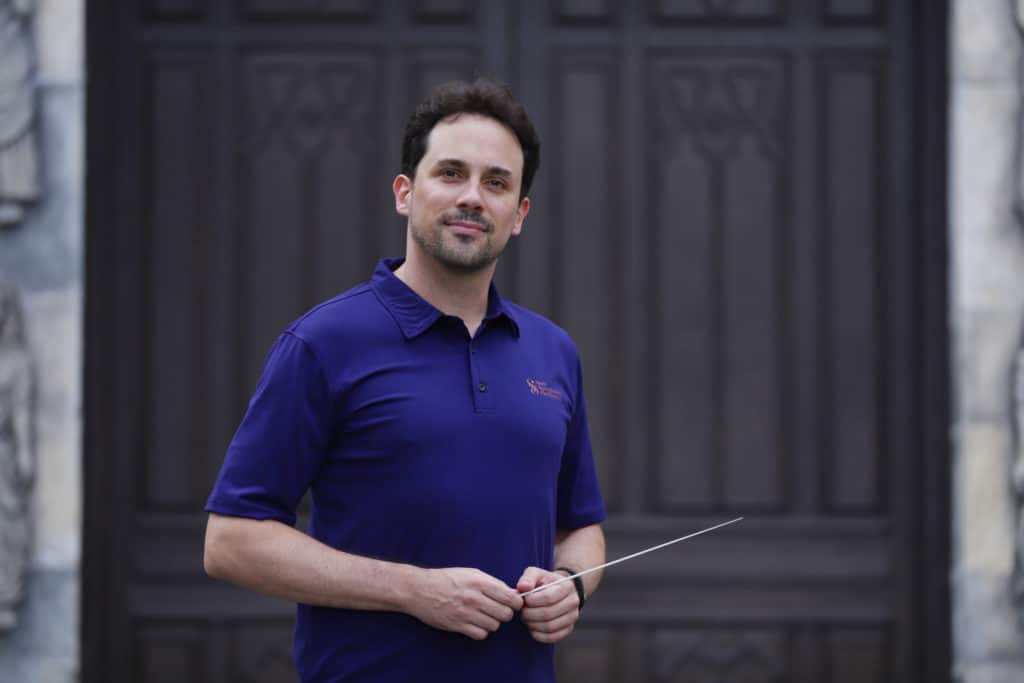 Conductor Olivier Ochanine passionately waved his magic wand, which pushed him to beat nearly 120 conducting candidates from 23 countries of the world to win the first prize of the Antal Dorati International Conducting Competition 2015 in Budapest, Hungary.
58 domestic and foreign musicians of the Philharmony were really into a musical adventure, which floated and brought mortal hearts together. The audience couldn't help but be astonished. They – the conductor and musicians and the audience – seem to be held under spellbound of the apex of world music in this one-of-a-kind music stage on the Lord Mountain. The setting was bestowed upon any those fortunate to be present on Ba Na Hills in the Sun Philharmony Performing Week (from July 18 to 24, 2018) out of their excitement and admiration.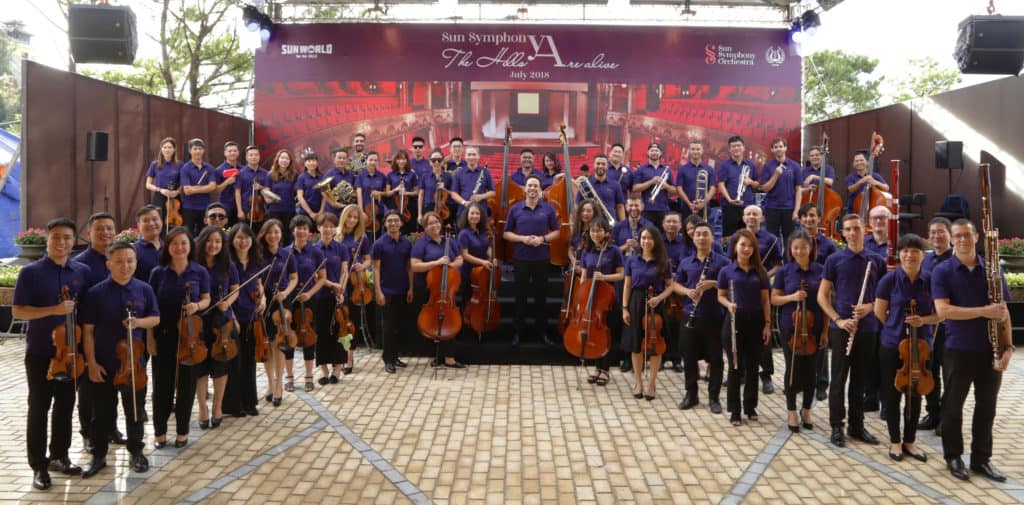 Endless hand claps whenever a prelude of classical pieces by genial composers Maurice Ravel, Johan Strauss Jr., Franz von Suppé, etc. ended. The audience, whether they were steeped in classical music or just amateurish to the genre, clearly felt one thing that classical music was indeed never scholastic and inscrutable as it appeared to be in their mind. When conductor Olivier Ochanine introduced that the philharmony would play the Rice Drum tune readapted by composer Do Hong Quan in classical style, the whole auditorium on Ba Na Hills burst in thunderous applauses and cheers of excitement.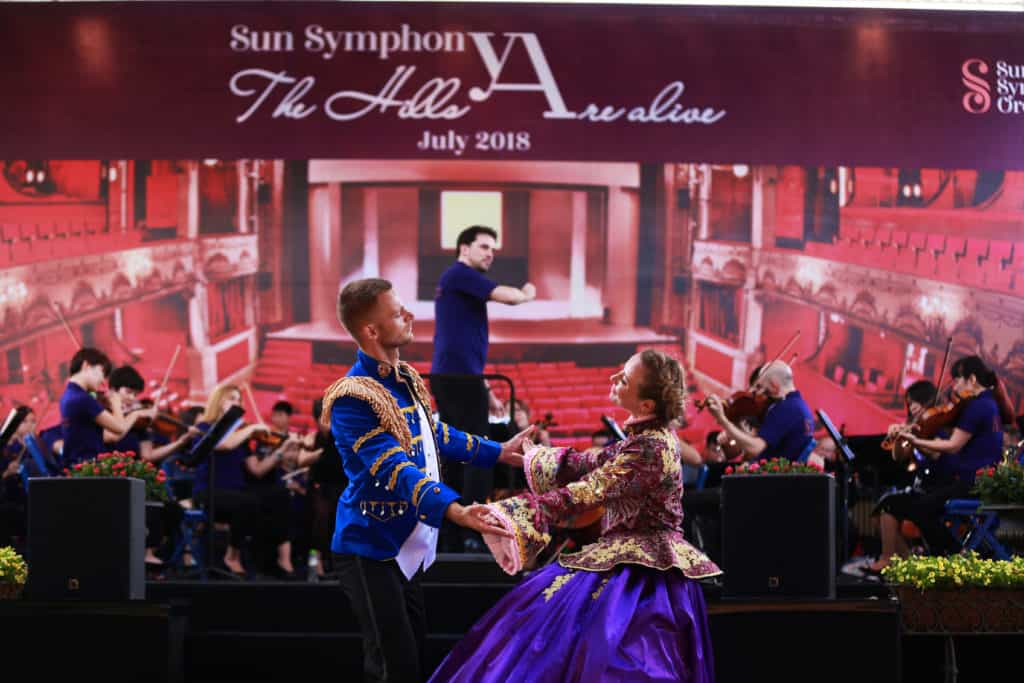 In 45 minutes, the audience were actually draped in classical music and swung to the tune of enchanting waltz or Polska by foreign dancers…
Tran Anh – an audience from Haiphong said: "I was taken by great surprise when a whole classical philharmony came here for performance. In the open and unwinding stage on Ba Na Hills, by those antiquated castles, it was really hard for me to describe how I felt to listen to those iconic classical pieces of the world, but it's really awesome!".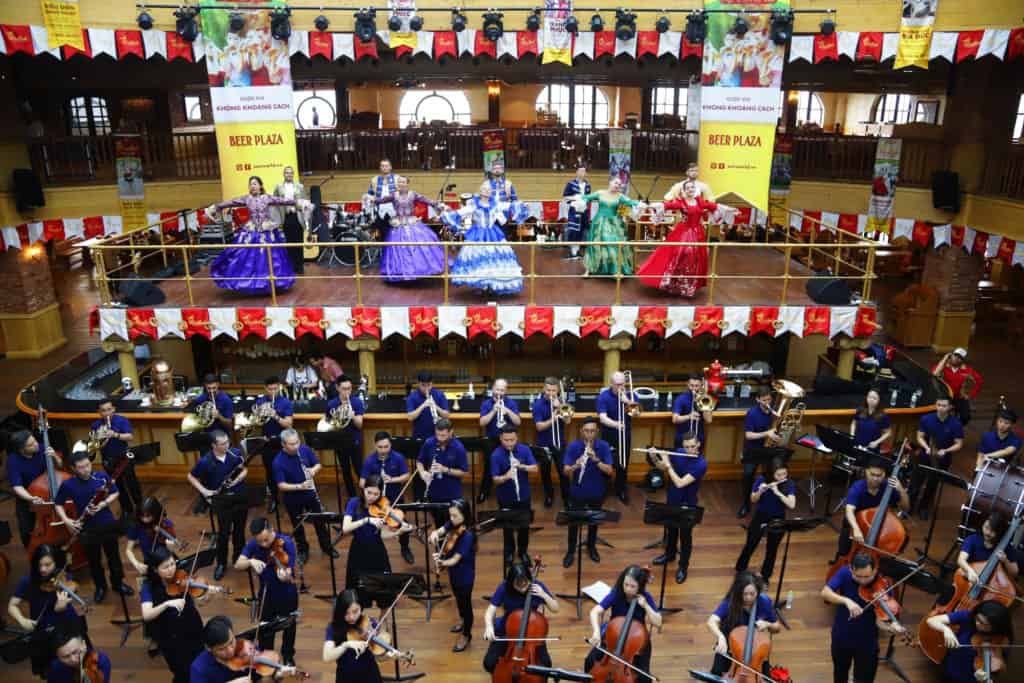 Back to Ba Na Hills after a year, Julia Chung, a Vietnamese expat from Germany was also excited when she was lavished with such a novel treat coupled with the sightseeing: "As a peson fond of classical music, I feel it's so great to listen to those familiarsounds in such an idyllic outdoor stage. Whenever I return, Ba Na Hills never cease to astound me with its evergreen novelty".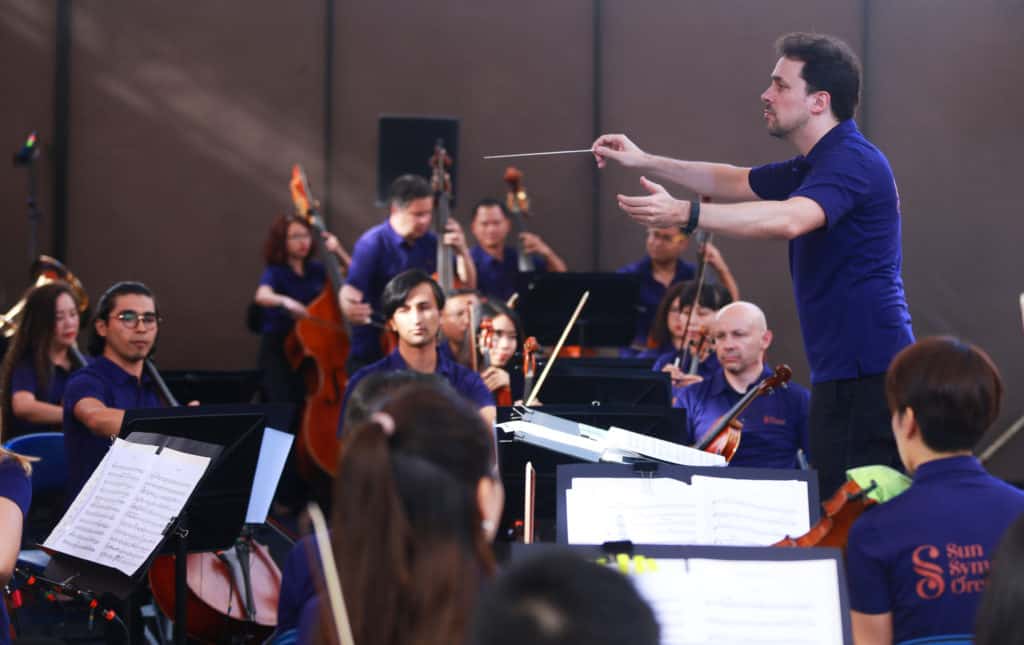 Having brought classical music to the public for the first time, Mr. Nguyen Lam An, Director of Sun World Ba Na Hills said: "We desire to bring that civilized music to Ba Na so that visitors to this resort can taste further exciting and creative experiences in the quintessential European space of Ba Na. Although this stage arrangement for a philharmony of nearly 60 musicians and delivery of professional musical instruments up to the Lord Mountain were far from easy, but to figure out the passion and feverish response of the audience to the philharmony got us even more energized to contribute to enhanced experiences for our guests".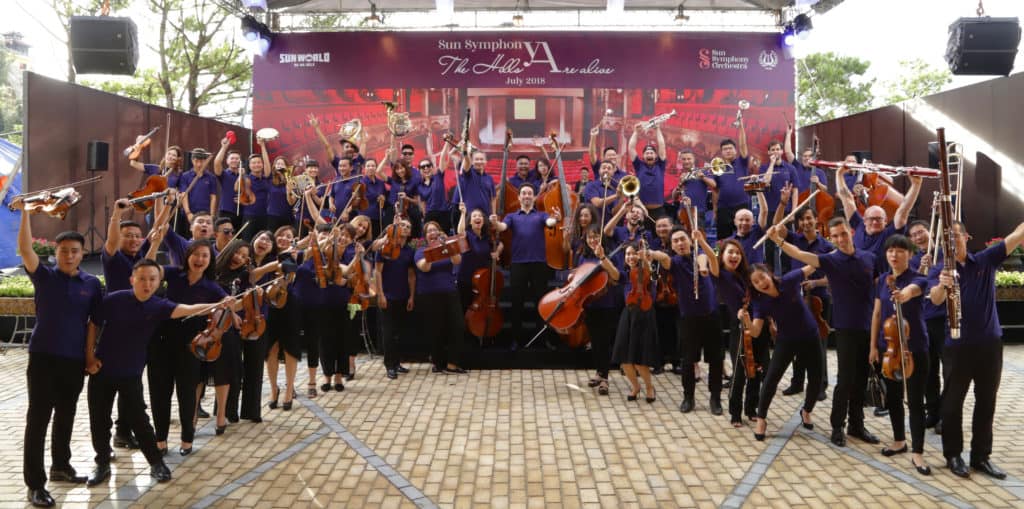 The Sun Philharmony Perfoming Week on Ba Na Hills is to take place continually at 11am and 2.30pm on a daily basis from July 18 to 24 on the Beer Plaza square. Each show lasts 45 minutes, thus offering visitors to Sun World Ba Na Hills this summer countless exciting and seamless cultural and entertainment sensations.
Properly tapping in quality cultural events such as "Sun King Banquet" carnival, "A walk to the sky" fashion show on the Golden Bridge on July 14 or the Classical Music Week performed by the Sun Philharmony… demonstrates the well-orchestrated agenda and passion that aim for elevated quality and class of Sun World Ba Na Hills. It also testifies the unbound charm and creativity of this Top destination of Vietnam for four years in a row.