For the fifth consecutive time, Sun World Ba Na Hills was honored in the Vietnam Tourist Awards 2019 in the category of Top 5 Best Tourist and Recreational Complexes of Vietnam. The honor and award ceremony was hosted by the Association of Tourism on July 15, 2019 in Hanoi.
From the date of operation, Sun World Ba Na Hills have never ceased to surprise visitors to Danang and made huge contributions to the newfound stature of the domestic tourism. It's a why Sun World Ba Na Hills have for years been honored by the Vietnam Association of Tourism with accolades: Top tourist complex of Vietnam (2014-2017), Top tourist destination of Vietnam (2018) and this year the Best tourist and recreational complex of Vietnam.
Mr. Nguyen Lam An, Executive Director of Ba Na Cable Car Services JSC., said: "For the fifth consecutive time to be honored with this award by the Vietnam Association of Tourism, we are extremely proud that Sun World Ba Na Hills' relentless efforts have been well recognized and appreciated".
For the exact 10th anniversary since its official operation in 2009, Sun World ba Na Hills have emerged to be a tourist symbol of Danang. Travelers to Ba Na are treated to not just a cable car route offering breathtaking and picturesque mountainous scenes   but also to a world filled with fairy magic and joys.
The French Village, dotted with grim and grave castles, is comparable to a miniature Paris. Le Jardin d'Amour with 10 flower gardens accentuates Ba Na as a great swath of beaming blossoms. An indoor amusement park spanning 21,000sqm Fantasy Park offers the best and most brilliant extreme games. Old wine cellar Debay through a cave that was bored by the French is still in enviable conditions until these days. The "world's most romantic hotel" Mercure Danang French Village Ba Na Hills hosts a chain of 20 classy restaurants, carnivals on a daily basis and booming festivals all year long…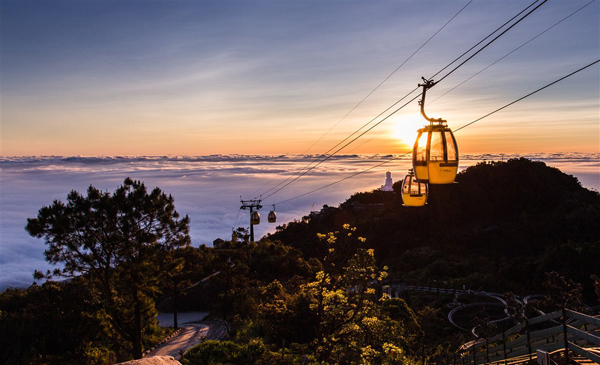 Given the colossal investment of hundreds of billions of dongs and featuring top figures in the domestic and international art and entertainment industry and stellar performances by over 200 actors from throughout the world, "Sunshine Prom" is a gateway to a world-class, jaw dropping and stunning recreational kingdom that draws endless attention from the audience and the press in the very first place on May 31, 2019.
With overall services renewed, coupled with relentless innovation and added values through augmented experiences to customers, Sun World Ba Na Hills have done a good job in attracting greater influx of domestic and foreign visitors and acted as a catalyst for the recent tourist boom in Danang.
Between 2009 and 2018, tourist influx to Danang rocketed by 463% while those travelling to Ba Na Hills also grew up to 160-fold. In the meantime, Danang Airport witnessed a big surge in passenger volume, from 2,079,758 in 2009 up to 13,300,000 in 2018.
In particular, following the "Golden Bridge fever", the number of outbound flights to Danang from emerging markets, notably Thailand, Korea or India… surged exponentially. In the first month of 2019 alone, the number from Thailand to Danang grew by 56 flights per week. In the first six months of 2019, out of 4.3 million passengers to Danang, over 50% paid a trip to Ba Na.
With encouraging outcomes of growth and fervent efforts in upgrading and enhancing the tourist competeitiveness of Danang in particular as well as Vietnam in general, Ba Na Hills deserves the accolade of the "Best tourist and recreational complex of Vietnam".
Source: Vietnamnet