Admire the shimmering wonders at sunset, a magnificent "Europe" at night, refreshing amidst the passionate party space, … Combo "Ba Na by Night" officially returns and captivates every visitor with the experience of "lively night party" – every moment from day to night on the top of Chua Mountain.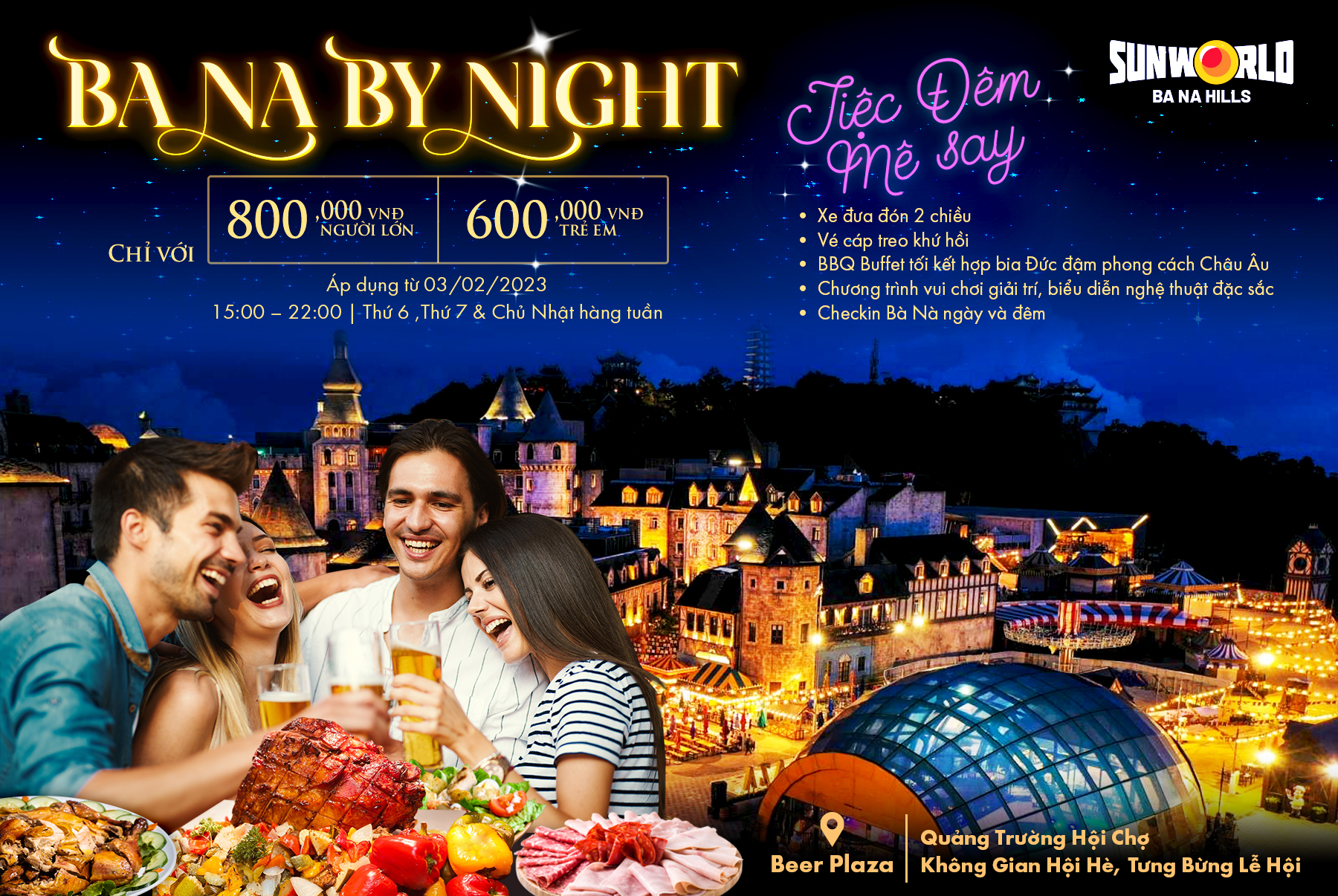 COMBO "BA NA BY NIGHT"
800.000 VNĐ

Adult

600.000 VNĐ

Children
03:00 PM – 10:00 PM | Applied on Friday, Saturday and Sunday every week. 
Applied from 3rd February 2023 until further notice. 
Combo includes:
Round trip shuttle

Round trip cable car ticket 

BBQ buffet dinner with European style and German beers 

Special art performances 
Check-in Ba Na Hills from day to night
*NOTE: 
Outdoor experiences may be temporarily closed due to weather reasons without prior notice.
A special experience of its own, Ba Na by Night – Night Combo officially returns with a myriad of fascinating experiences between the fairyland…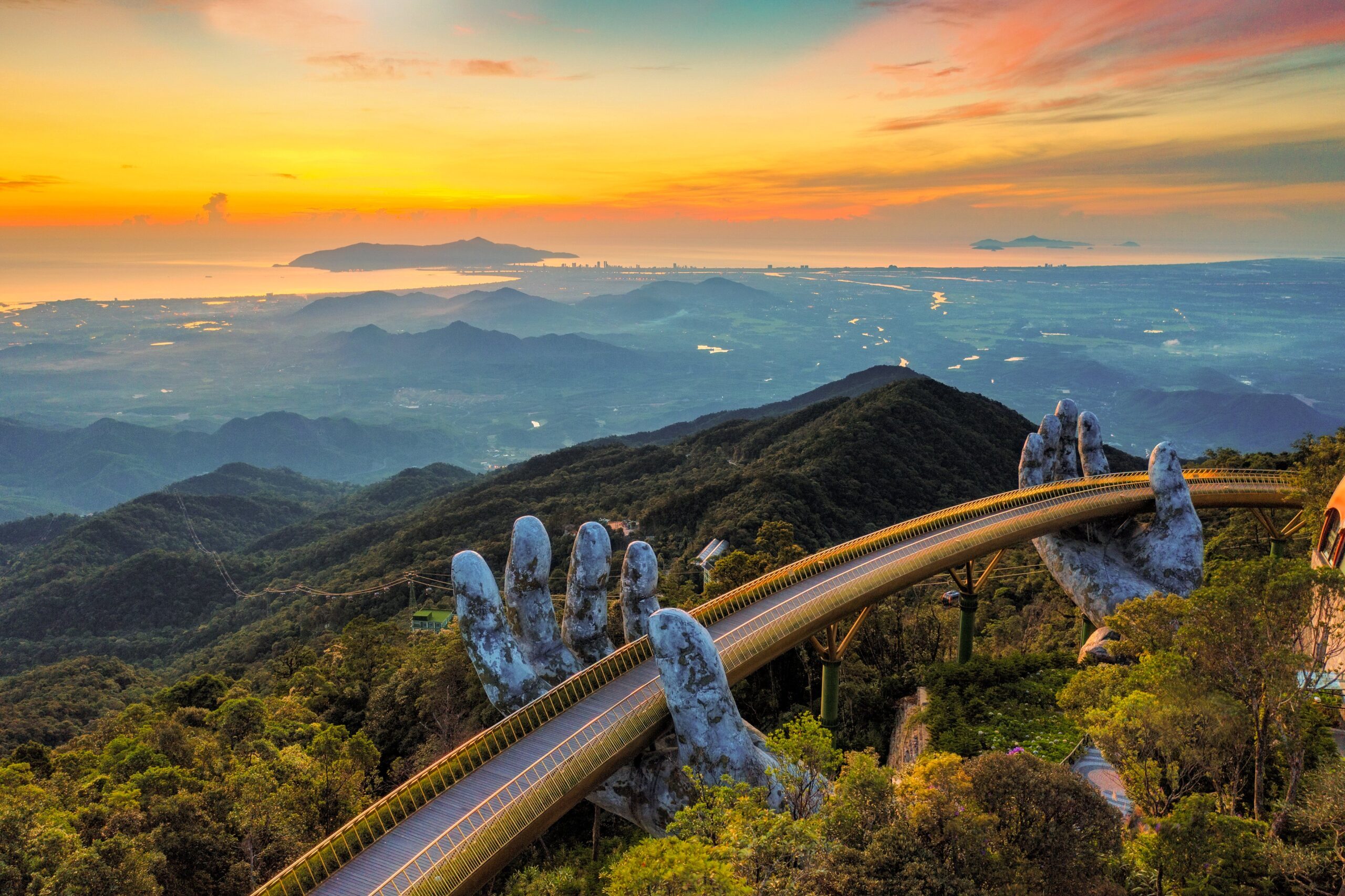 Check-in shimmering in the sunset at Golden Bridge
It is a beautiful corner of Paris ecstatically beautiful at sunset, Le Jardin D'Amour flower garden is nestled in the red sunset. And from the Golden Bridge that bends like a silk strip drawn from the mountain, visitors can reach out to grab the red halo of the falling sun dyeing amber to Ba Na mountains and the city in the distance. The moment the sunset falls on the top of the mountain of God will make visitors immerse and make every photo corner become a moment of a lifetime. In addition, the typical architectural works in Ba Na such as Helios Waterfall, Lunar Castle, Eclipse Square, … will also be check-in points that can't be missed in the middle of the afternoon in this place. first sight.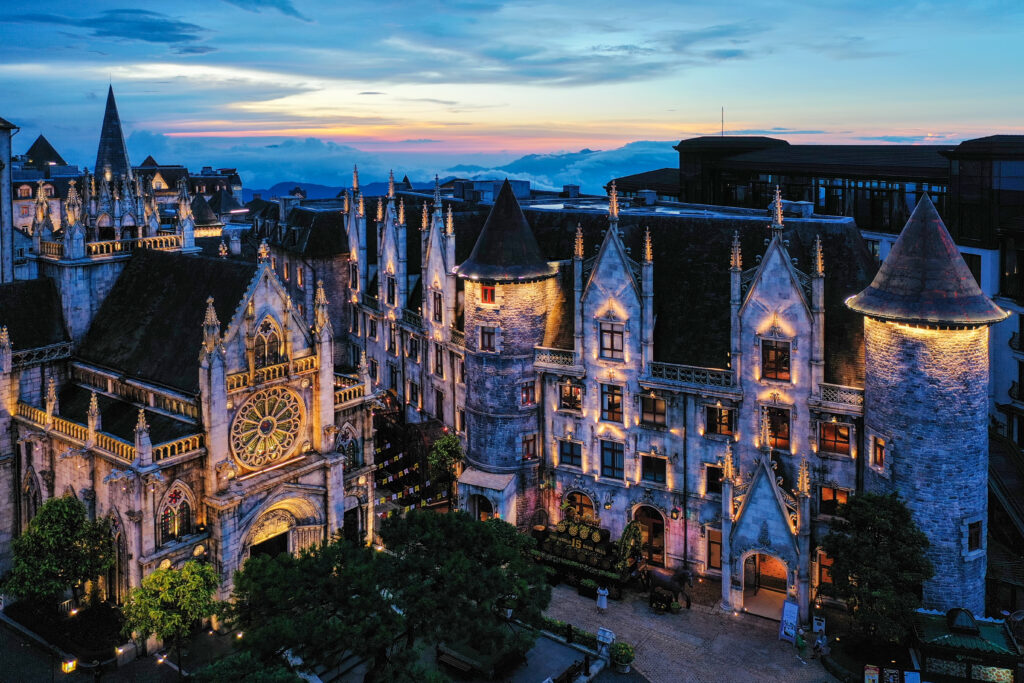 French Village under the nightfall
When night falls, hidden behind the mist is the French village shimmering with lights, walking on the paved paths as if being adventured in a real fairyland. On the top of Chua Mountain, 1487m high, the weather will blend in with the fragrance of flowers and grass, as if making people want to get closer together, prompting footsteps to find a warm and vibrant region at Beer Plaza.
In the midst of the cold and romantic atmosphere, visitors will enjoy the irresistible deliciousness of more than 50 dishes on the attractive buffet menu, enjoy the aromatic German beer and then get drunk in the evenings. passionate lyrics and dances from charming European boys and girls.
Come to Beer Plaza in the "Lively Night Party" on the top of Ba Na, don't forget to immerse yourself in the vibrant and cozy atmosphere of dance, music and harmony from campfire shows and art performances. (From 6:00 – 8:30 PM at Beer Plaza).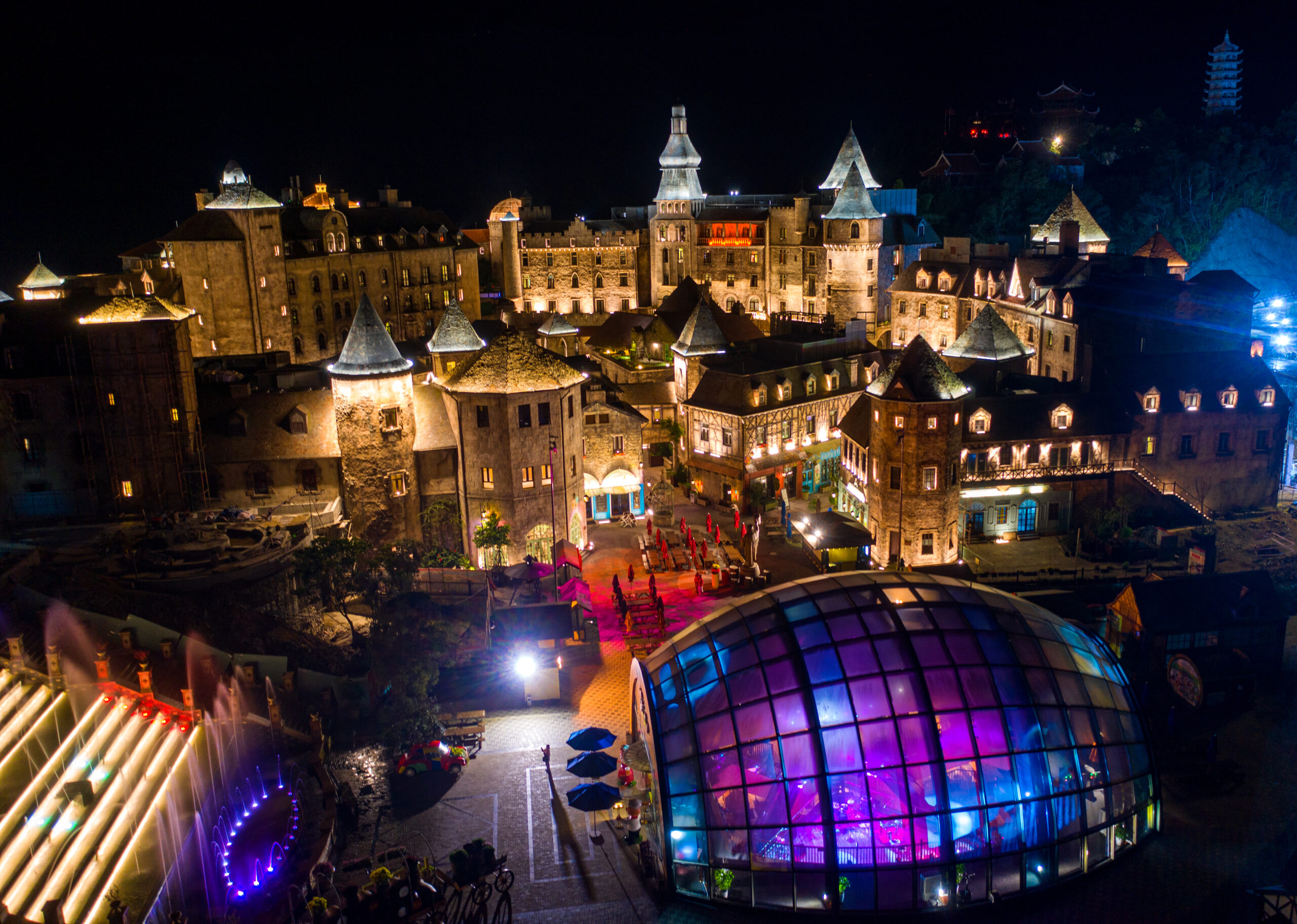 Beer Plaza – where campfires and special art shows take place.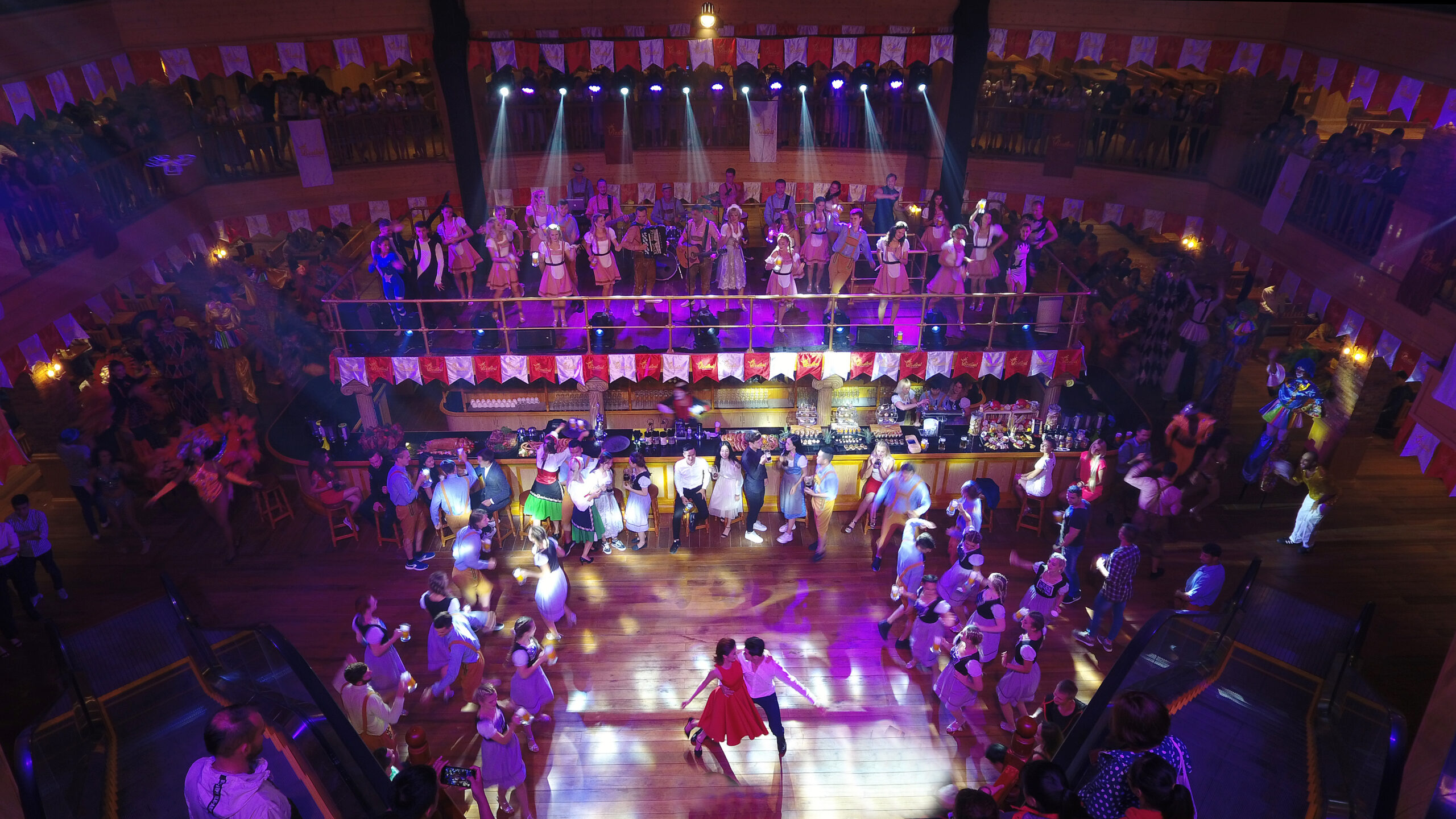 Exciting music & art performances at Beer Plaza
Let's join Sun World Ba Na Hills to discover Ba Na from sunset to nightfall with the experience of clouds and colorful parties!!
For details or booking tickets, please contact Hotline: (+84) 905 766 777.
——-
VISIT SCHEDULE 
2:00 PM

Pick up customers by bus at Asia Park 

3:00 PM

Start boarding the cable car. 

3:30 PM

Check-in

the magical architecture on the top of Ba Na: Golden Bridge, French Village, Helios Waterfall, … 

4:00 PM – 5:00 PM

Go to the Moon Kingdom, visit and experience the Luna Castle

 

5:00 PM – 7:00 PM

Explore many games at Fantasy Park and Market square. 

7:00 PM

Enjoy BBQ buffet dinner and special art performance, game shows at Beer Plaza restaurant (served from 05:30 PM to 09:00 PM)

8:00 PM

Join the campfire with entertainment and culinary activities at the Beer Plaza outdoor festival area. 

8:30 PM

Enjoy the romantic French Village night scene. 

9:00 PM

Take the cable car back (operates at 7:00 PM, 8:00 PM and 9:00 PM)

9:30 PM

Take the bus back to Asia Park.
*NOTE: 
Outdoor experiences may be temporarily closed due to weather reasons without prior notice. 
SHUTTLE BUS SCHEDULE: 
| | | |
| --- | --- | --- |
| | BUS STOP | TIME |
| Arrive | Asia Park – No.1 Phan Dang Luu Str. | 2:00 PM |
| Return | Hoi An Station – Sun World Ba Na Hills | 09:30 PM |
—————–
►Liên hệ: (+84) 905 766 777