Where to escape the broiling humidity of this 2019 summer? Where to get tipsy over the sparkling ad cool cascade of fraught German beer and indulge yourselves in the nihilistic festive mood? Not the distant shores in Germany, but B'estival 2019 festival a Sun World Ba Na Hills is the place to be. Inspired by the world renowned beer festival Oktoberfest in Bavaria, Germany, B'estival Sun World Ba Na Hills Festival is the signature treat of this top tourist complex of Vietnam every summertime. In its fourth time (from May 5 to September 5), the uplifting festival on the Lord Mountain is expected to keep up fueling "fun and fetes" throughout summer for visitors who choose to be at Ba Na Hills.
Ba Na Hills has more than the French Village, whose architecture won the Gold Medal in National Planning, but also a miniature German Bavaria, highlighted with the central Beer Plaza dotted with old beer barrels and booths that authentically sketch out a far-flung Germany. Beer Plaza is also the most vibrant and marvelous venue of this year's beer festival.

Mr. Nguyen Lam An, Executive Director of Sun World Ba Na Hills, demonstrated: "The 2019 B'estival will surely strike an even stronger impression on visitors. We have anticipated novel changes and more elaborate investment in authentic German beer, foods, décor and performing arts. Stealing a glance at the Beer Plaza- the main stage of B'estival this year, visitors will be washed in the freshest, most youthful and interactive environment ever.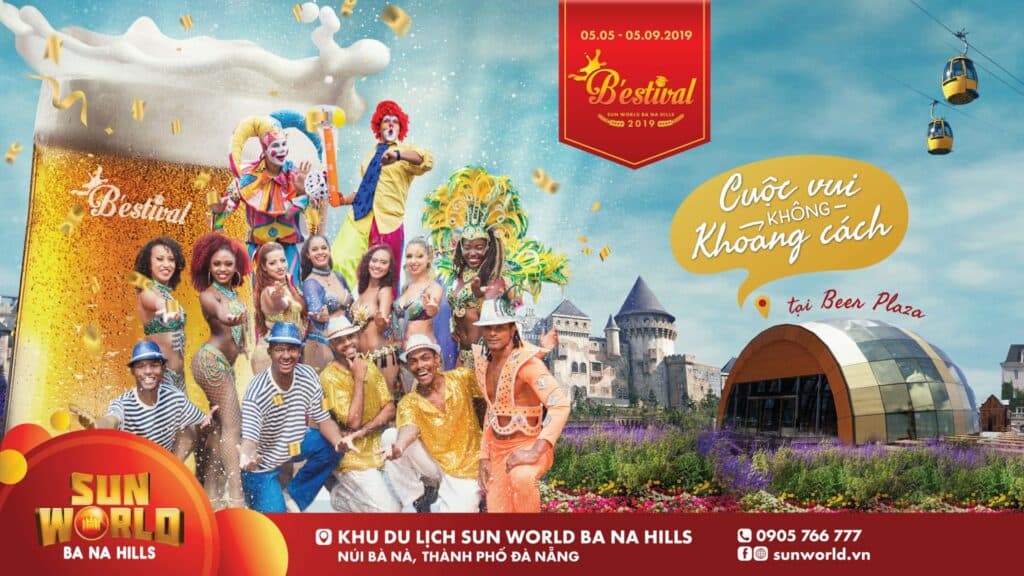 B'estival mood presides over the Lord Mountain – Ba Na, as soon as visitors land on the complex. Bubbling giant beer pints laid out at the Fort Gate, unfurling flags and unique carts crafted of beer barrels, hay and barley prompt die-hard check-in fans to raise the camera. The exciting cheers and toasts fill the whole air. The most important and also rewarding feature of the B'estival Ba Na Hills this year is of course fresh icy draught beer pints from 25 premium German beer brands, notably Budweiser, Paulaner, Kulmacher, Monchshof or Benedictine… It's the biggest difference in the B'estival 2019 since visitors were just treated to two German beer products, namely Bishop beer and gold beer in previous festivals.
Beer on offer in B'estival charges from VND50,000 to VND190,000/pint. Sun World Ba Na Hills also offers two great bonus programs "Buy 2 get 1": for every two German beer pint, visitors are given one draught beer one. Good beer is incomplete without good snack. To intensify the strong taste of the icy, thirst quenching German beer, visitors are treated to a wide range of yummy snacks at B'estival food kiosks. Right at the Beer Plaza, fans can hardly resist the swirling aroma of grill kiosks. A variety of grills from meat and well-garnished seafood sizzles on charcoals and are expected to awaken all senses of visitors. Besides, you can also pick several options of snacks, including sausage, fried chicken, French fries, pizza or Hala kebab… And of course most quintessential snacks in an Oktoberfest, famously, German sausage and salted bread… that are irresistibly on display at food kiosks. IN the B'estival Sun World Ba Na Hills, visitors may get tipsy and ecstatic in festive mood. Lots of feverish fetes await to rouse your worldly senses as visitors relish sparkling, bubbly German beer and essential Oktoberfest snacks.
In the fixed hours from 10am to 3pm, upbeat tunes played by four European and American bands will stir up the air in this B'estival Sun World Ba Na Hills exclusively. Bryant Brand, Gramophony Band, Latin Band and Twit Band will be ice breakers to lend some heat to the already sweltering air of this year's festival. Particularly, this year the Beer Plaza is selected to be the venue of the largest Festival of Light – Summer Carnival in Ba Na up to date, featuring over 200 international artists and a stellar creative team of established domestic and foreign professionals.

In the whole of this world-class art extravaganza, Beer Plaza is poised to be a realm of fetes and frocks, where overflowing fun fills the air and the pints of Oktoberfest beer, from hip swaying Stomp dance, and bottle and barrel beats or drum beats.. The bleeding ecstasy of the B'estival 2019 will thus even more mesmerizing in visitors' glistening eyes. Similar to previous ones, one of the most rewarding experiences  that makes visitors inseparably part of the festival is to hire authentic Bavarian costumes to play local, lederhorsen-clad lads and dirndl lassies. Sun World Ba Na Hills have costumes kiosks galore at the Beer Plaza so that visitors can actually enjoy a proper Oktoberfest vibe. Girls look so vital in their chic striped dresses while guys muscle up in strapped lederhosen pants. Having some beer in the midst of such a movable feast and donning most characteristic costumes… will certainly the most exciting experience of all visitors fond of the festive vibe and authentic German beer.