Breaking the record of the Spring Flower Festival, this Lunar New Year, Sun World Ba Na Hills turned into "Dutch country" with 1.5 million tulips, and tourists can enjoy the whole rose garden with 54 kinds of flowers from various countries.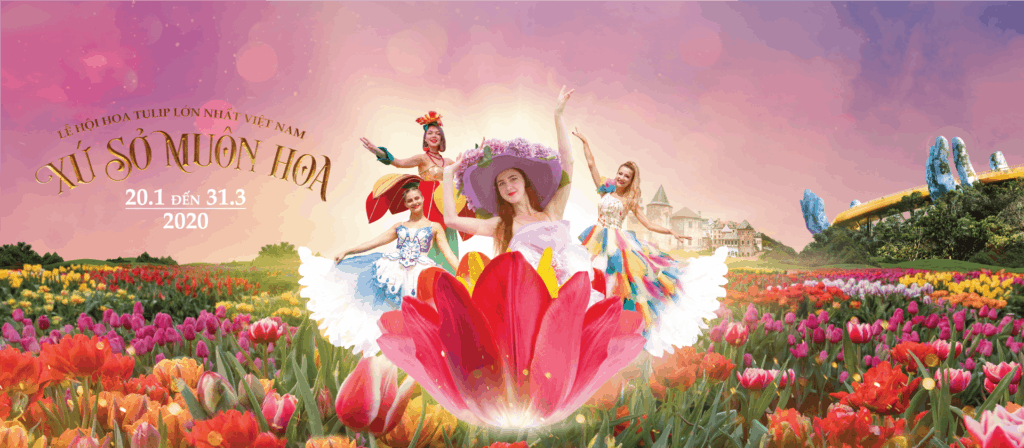 Spring Flower Festival, which has been a New Year's "specialty" of Sun World Ba Na Hills for many years, still a flower festival, but in this year, Ba Na Hills breaks its own record last year, to bring to tourists a Dutch tulip garden with total1.5 million flowers. In addition, we have a brilliant rose garden, with strangely charming foreign rose types that you probably have never seen in your life.
The event takes place from January 20, 2020 (ie, December 26 of the lunar calendar) and lasts until March 30, 2020, with the theme "Land of flowers", Sun World Ba Na Hills flower festival is like gathering the whole spring to God mountain, making tulips the queen of the festival and making the roses the beautiful fairies among other flowers in mini-shows of dances and music…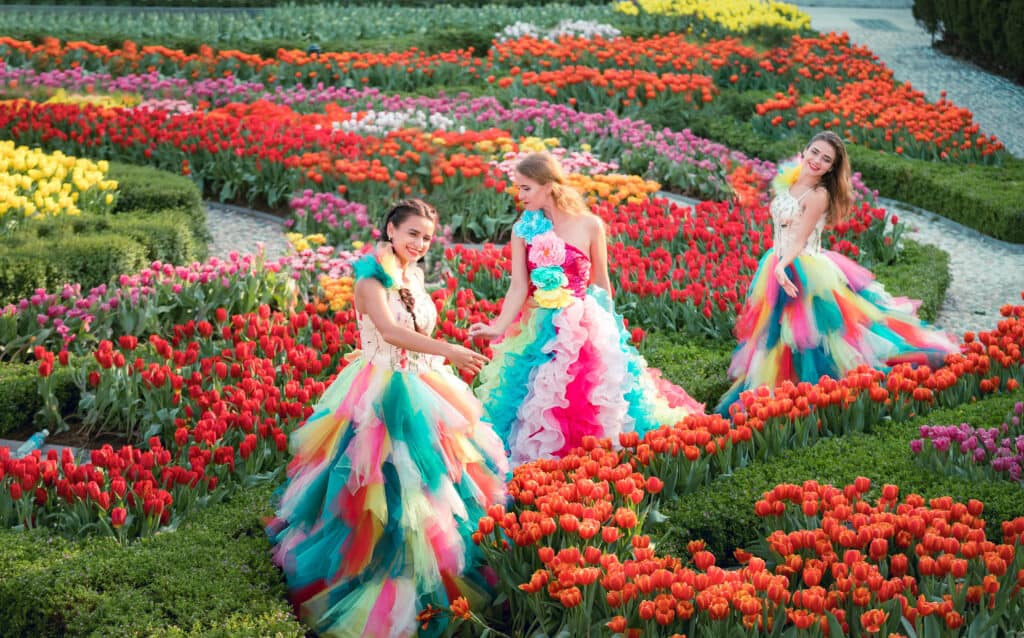 The tulips form giant flowers right at the entrance of the City Gate, spreading endless carpets of colorful flowers in the Le Jardin D'Amour garden, creating funny mouse family scenes – the symbol of the new year 2020, into a brilliant flower wall in the Promise Square… 57 varieties of flowers, many of which are rare such as queen of the night, Fancy Frills, Fabio, Queensland, flash point, green dance, indiana, purple valley, negrita… creating the vivid colors of red, yellow, black, purple, pink, blue… for the spring picture of Ba Na. Although it is in the Dutch homeland of this flower, tourists will probably find the same splendor.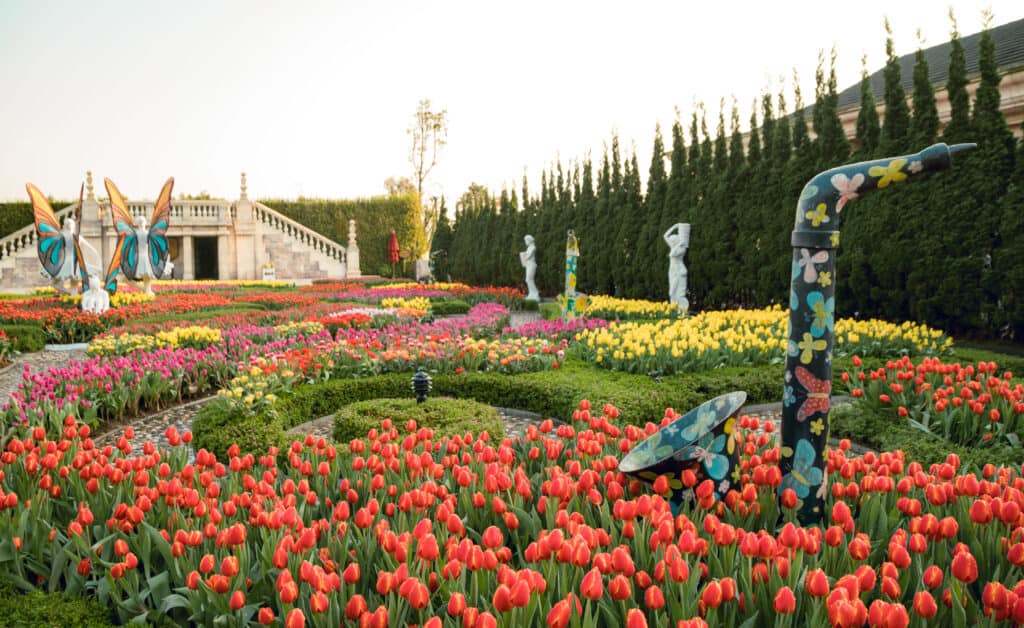 A few years ago, tourists to Ba Na often admire when they saw in the flower floats in front of the St.Denis church area, the small and beautiful rose bushes, and were surprised when touching the flowers on the road to take pictures with big roses that palms cannot hold. This year, Ba Na has a large rose garden at Happy Garden during the Spring Flower Festival.
54 types of roses representing 54 ethnic groups, from the climbing roses Alexandra of Kent, Bien venue, Johann wolfgang von Goethe… to bush roses Autumn rouge, Blue sky, Caramel Antike, Catalina, Claude monet… from England, France, Japan, USA, Turkey… with all colors and all kinds of scents. Rarely any year, tourists to Ba Na Hills in spring "gain" that much, when just walking the Netherlands to admire the tulip, in a moment, they can stray to Bulgaria to see tens of thousands of roses.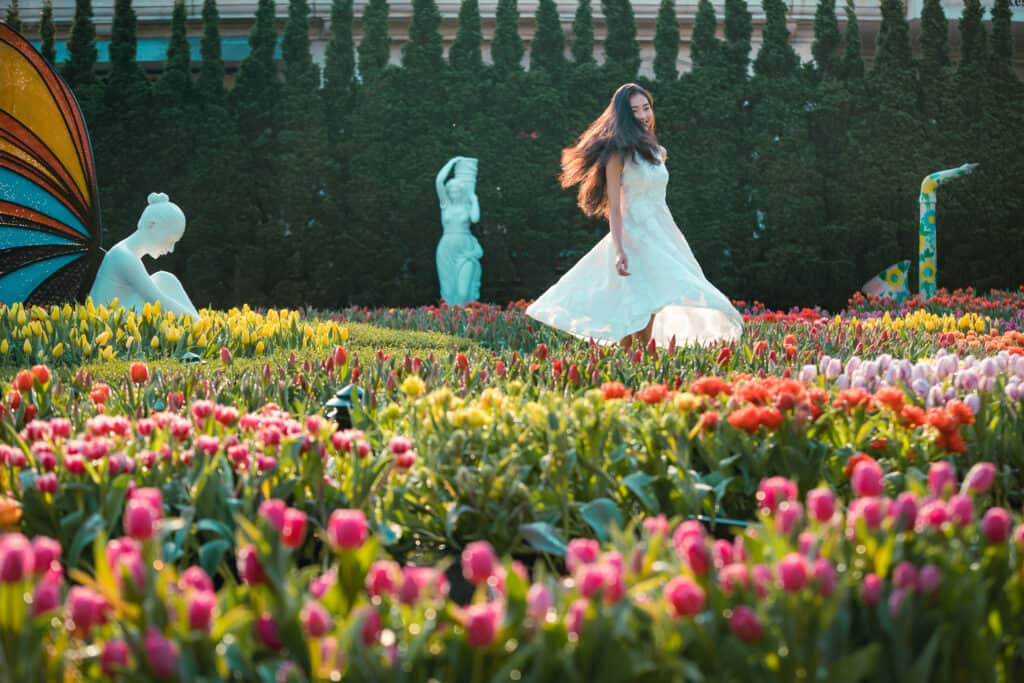 In harmony with the space of millions of flowers, there will be exciting and vibrant musical shows all day long, in the hours of 10am – 3pm, at the Club stage and Flower Garden stage. Three shows a day, from "Magical Flowers", "Exotic Flower Valley" to "Four-Season Dance" will constantly stir the brilliant flower space in Ba Na, telling tourists the story of the tulips, the most beautiful and shining flower, symbolizes love, wealth and eternity. The tulips bring beauty and miracles everywhere. European artists will put on brilliant, lovely costumes, offering tourists the top art performances with professional dances.
Coming to Ba Na in the spring flower festival, tourists will only wish that a day had more than 24, even 48 hours, to be able to have fun, to take pictures with beautiful scenes of the land of Golden Bridge. Therefore, this Spring, you must go to Ba Na.