From September 1st, 2023, Sun World Ba Na Hills proudly presents the "Loyal Customer Card" (also known as the Annual Cable Car card). Starting from 2,000,000/card (for an order less than 5) or 1,900,000 (for an order more than 5), our customers can enjoy the numerous benefits that the card provides. The card will be the ideal companion in your trip to explore Ba Na Hills.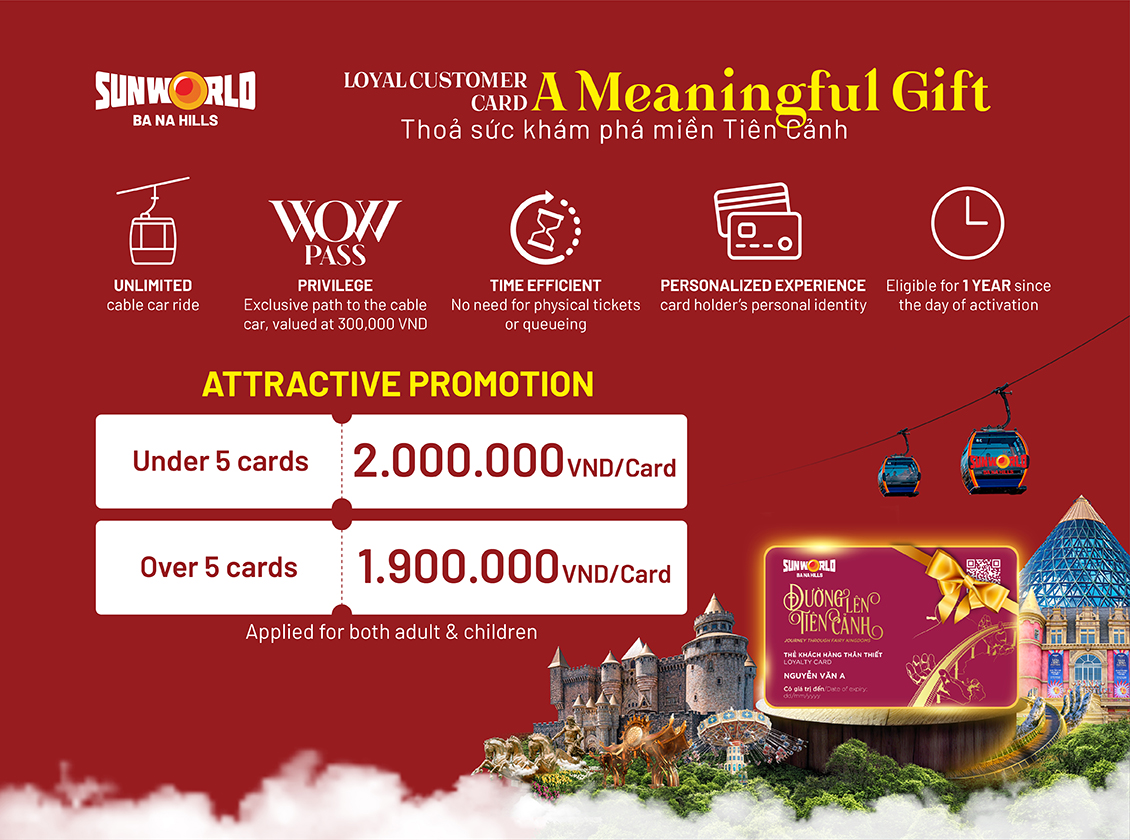 Ownership's benefits
Unlimited use of WOW Pass (compared to a single 300,000 purchase): limitless two-way cable car tickets, free access to the privileged, queue-less path so you can spend more time having fun.
An ideal economical option for frequent Ba Na Hills visitors to freely enjoy the year-round festivals and cultural atmosphere, where countless shows, activities, and diverse cuisine are waiting for you.
The perfect gift for your loved ones or partners, with its elegant design and beneficial perks that help bring the renowned Ba Na Hills experience closer to everybody.
Registration and terms of use
To register, simply present your official documentation (ID, passport, driver's license) at Sun World Ba Na Hills' ticket office, or contact banahills@sunworld.vn, or the hotline 023 6374 9881/883/885/886. Afterward, you will only need to present the card every time you enter our cable car stations. To re-issue your card, please contact 096 584 2688.
Each card is assigned to a single owner only and will be effective within a year of purchase. Please note that this card is not permitted for loan or transfer under any circumstances. Violations of this rule will result in confiscation without a refund.
Let's register your new card and freely explore the diverse Sun World Ba Na Hills.