Famous for its delicious specialties and authentic tastes, Ba Na Hills has long established a solid position in the customers' hearts. In order to bring the culinary essence from the Chua mountain to all the food lovers and travelers alike, this September a "mini" Ba Na has appeared alongside the dreamy Han riverbank. The Little Ba Na Hills restaurant, with its flagship sausages and freshly brewed beer, along with an array of cuisine creations is ready to welcome visitors from around the world.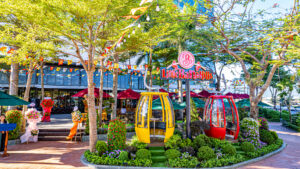 Our three primary goals
Little Ba Na Hills proudly offers the complete experience through three definitive goals: Quality – Class – Uniqueness.
The "Quality" is expressed through the fresh, safe, and delicate ingredients and dishes presented to our customers. It is also expressed through the refreshing, German-qualified recipe beer, making a "perfect" match with our premium barbecue goodness. Thanks to the 16-year F&B experience at Sun World Ba Na Hills, we have constructed an ample menu with carefully selected dishes that will surely please the most demanding guests and critics alike.
The "Class" quality is expressed by our consistent creativity, always aiming to elevate the customers' experience through the space, the brand, and the service. As you step into our restaurant, you will enter a European-inspired architecture, fusing harmoniously with the surrounding greenscape – one of Ba Na Hills' signature and will separate you from the bustling streets outside. In this space, our passionate and professional waiters will bring you the famous Ba Na service and see to your every need.
Little Ba Na Hills' "Uniqueness" quality will be embraced by our customers through the exclusive recipes by Ba Na Hills, in collaboration with the famous Hanoian culinary artisan – Madam Anh Tuyet. Our uniqueness also comes from the ever-changing festive mood and an array of spectacular trademark performances from Sun World Ba Na Hills.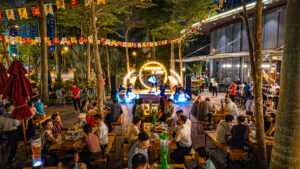 A full day of culinary goodness
Whenever you come to Little Ba Na Hills, rest assured that we will always get you covered with every craving, with our diverse Eurasian fusion menu.
Start your breakfast with Vietnam's delicious and nutritious traditional dishes, handpicked by Madam Anh Tuyet herself. Our breakfast will make sure you are fully energized for the long day ahead.
For lunch, our customers can freely discover our wonderful lunch menu, curated from the 16-year F&B experience, brought to you by the talented cooks of Ba Na Hills. Whether you choose a conventional lunch set, fulfilling a family hot pot set, or invite your guests to a premium lunch, we have it all.
The evening time is when Little Ba Na Hills transforms into a different, more energetic version – A European-inspired beer garden with freshly brewed beer, delicious barbecue food, and exquisite art performances by the artists of Ba Na Hills – the ideal place to end your day on a high note.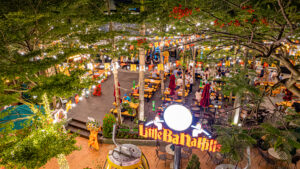 Spend time with us to enjoy the quintessential of Ba Na Hills at number 36, Bach Dang street, Hai Chau district, Da Nang. Reserve your table at 036 341 8118, or reach us via our Facebook fanpage at Little Ba Na Hills. or TikTok at Little Ba Na Hills