On the occasion of the 48th anniversary of the liberation of Da Nang, Sun World Ba Na Hills dedicates its wholehearted gratitude to the people of Quang Nam and
Da Nang city with a special gift of gratitude. March of gratitude – Sun World Ba Na Hills gives you a
special 
offer.
| | | |
| --- | --- | --- |
| PROMOTION | Entrance Fee | Combo Entrance + Lunch Buffet |
| Adult | 350.000 VNĐ | 650.000 VNĐ |
| Children (1m – 1m4) | 250.000 VNĐ | 400.000 VNĐ |
*Free for Children under 1m Miễn phí cho trẻ em dưới 1m
TERM CONDITION
–
Valid from 10 March to 31 March 2023 
– Applied for the people of Quang Nam and Da Nang.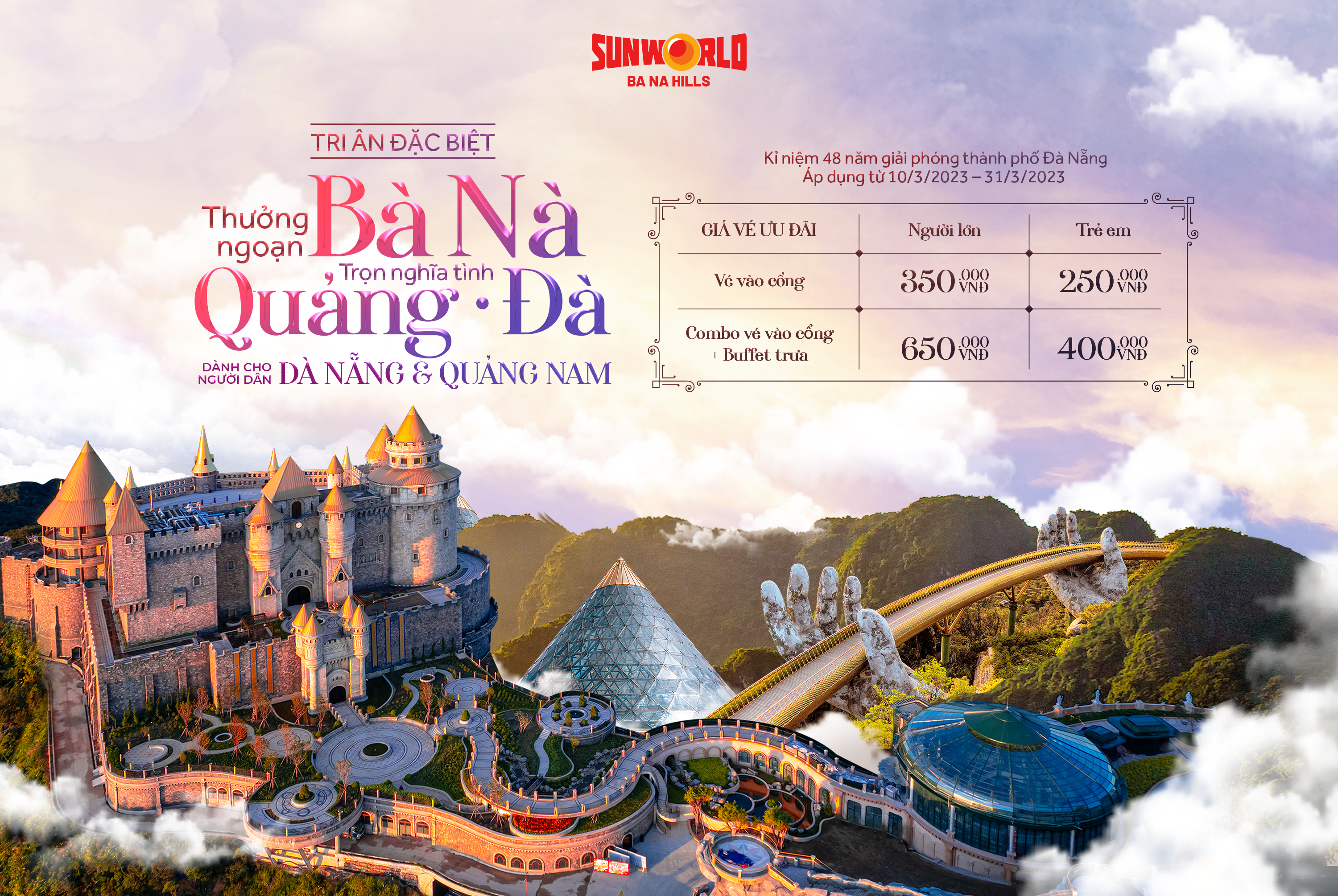 March of gratitude" is one of the community activities that the resort is interested in to bring special experiences in the journey to discover the top of Ba Na. Reminiscent of a land that is constantly renewing, from the top of the wild mountain to the white clouds, the fog covered among the magnificent and splendid wonders, Ba Na still remains a vow of love and a sincere heart for Quang Nam – Da Nang.
The program is a tribute to the people of Quang Nam – Da Nang on the 48th anniversary of the liberation of Da Nang city (March 29, 1975 – March 29, 2023).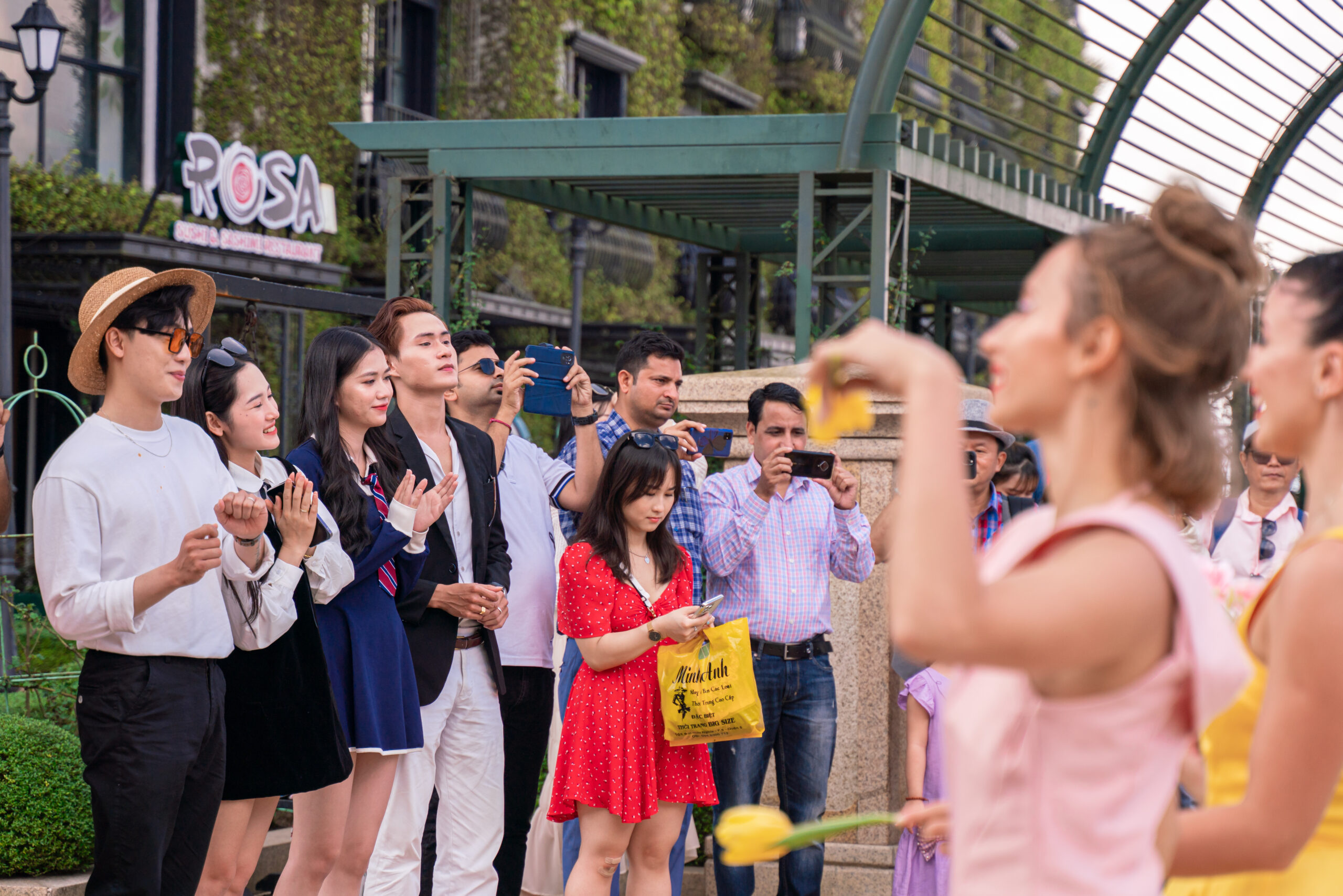 TICKET INSTRUCTIONS:
Option 1: Please buy tickets directly at the ticket counter when coming to Ba Na
Option 2: Please book tickets online at Trang chủ – Sun World
Note: Tickets are only valid for the selected date, please do not refund/exchange/return.
Sun World Ba Na Hills would like to thank the people of Quang Nam – Da Nang for always accompanying the development of the tourist area during the past time.
——-
Conditions for using tickets according to the program:
– Visitors are kindly requested to present the ORIGINAL one of the following identification documents at the control gate:
+ For adults: Identity card or citizen identification or passport or household registration must be accompanied by photo papers such as driving license
+ For children: Birth certificate or household registration or passport or student card
Ticket price includes:
– Entrance ticket includes cable car ticket, entrance ticket to Golden Bridge, French Village, spiritual area, experience games at Fantasy Park, Fair Square, Moon Castle and art shows
– Price does not include tickets to the Wax museum, food, prize games, 4D cinema)
– Combo of entrance ticket + lunch buffet including the above services and lunch buffet in the time frame 10:30 am – 03:00 pm.
———————–
𝗦𝗨𝗡 𝗪𝗢𝗥𝗟𝗗 𝗕𝗔 𝗡𝗔 𝗛𝗜𝗟𝗟𝗦
►Contact: (+84) 905 766 777