Offering this product the first time with "Ba Na Night" combo that offers various incentives, Sun World Ba Na Hills guarantees that visitors are to be washed with unheard and unknown sensations of this top destination of Vietnam for four years in a row.
The dark that falls hard on mist drenched Ba Na Hills, in the midst of the French Village dotted with eerie and enchanting castles is a fascinating experience that keen visitors crave for. It is the reason why Sun World Ba Na Hills feel prompted to launch Ba Na Night combo for an incredibly discounted price and incredibly rich and distinct experiences.
Officially available from July 10, between 4pm and 9pm, this brand new Ba Na Night combo of the complex enables visitors to travel around Ba Na for just VND550,000/person. This expense already covers shuttle buses from key stops in Danng downtown to the complex, cable car ticket, buffet meal and one liter of German drought beer for free at Beer Plaza square. Furthermore, visitors who hold this fascinating Ba Na Night combo can also play out loud at Fantasy Park – the largest indoor amusement park in Vietnam that boasts hundreds of hair raising games. Biggest, most expected and mind boggling rewards entailed by this combo are simply invaluable moments on Ba Na Hills when dusk wanes or the dark falls, which were previously hardly bestowed upon visitors.
In the day, Sun World Ba Na Hills are the embodiment of maidenly vitality and enerfies as she basks in upbeat and vibrant swings of non-stop festival such as the largest "Sun King Banquet" carnival in Vietnam, involving nearly 200 dancers and European and Brazilian artists, passionate and echoing rock and R&B grudges or jovial toasts in the B'estival 2018. However, as dark presides, another Ba Na emerges, romantic, taunting and esoteric. Washing away all the mundane noises of the day, it is a perfect time for visitors to slow a bit and feel more to savor Ba Na at its fullest and finest.
A little Paris in all the glam and glitter in the dusk, or Le Jardin d'Amour that blushes under the fading twilight of the day… And from the cascading Golden Bridge as if it is drawn from within the mountain, visitors can to hold out to pluck the tawdry cherry sun falling and splattering in amber off the distant city skyline. The falling sunset on th Lord Mountain may even resonate with hardened souls, squeezing out of them unconscious verses and making every single moment capture of a lifetime.
As dark descends, castles in the French Village are glistening and well lit. Strolling on cobbled lanes drenched in the frost, it seems that a fairy world is just within reach. The chilly night at the height of 1,487m may make distant hearts want to get closer together, and prompt us to walk more resolutely to the alluring swirl of food scents at the Beer Plaza, savor the mouthwatering menu of over 50 dishes in a single buffet and spicy drought German beer and swing to jovial taps and dances non-stop with alluring European girls and lads.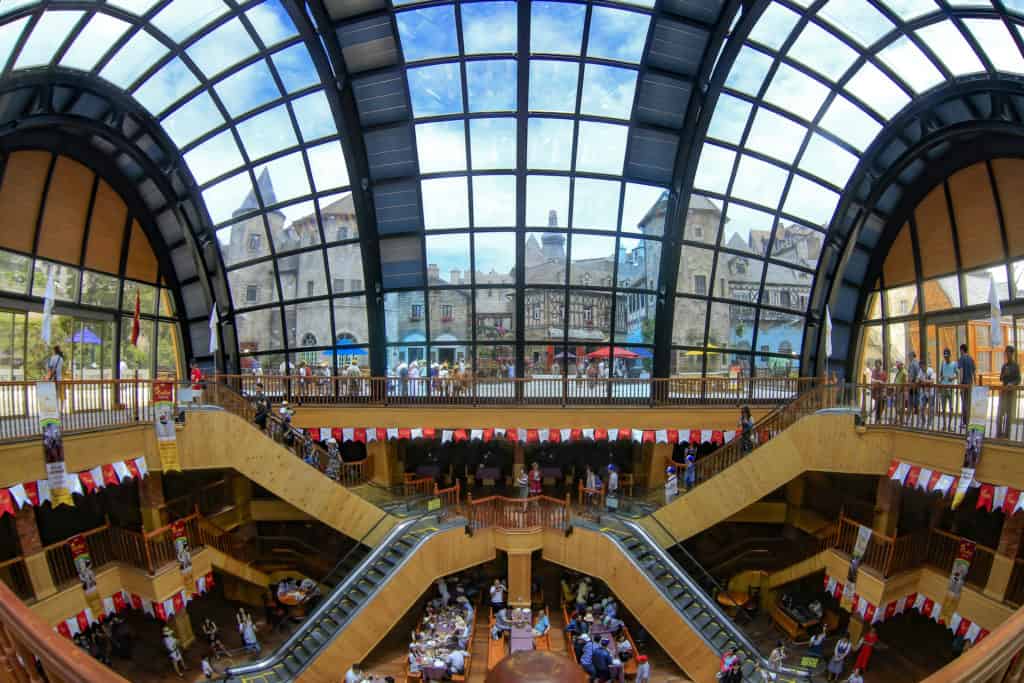 Those fairylike experiences will be extremely irresistible for family with little children. Tipsy bouts in the beer festival in the night should be the most rewarding experience for young peer groups. Heavenly captures of Ba Na at the dusk or in the starlit night wrapped in the mountain frost is the most flawless and majestic space for loving hearts. And of course, "Ba Na Night" combo is the best gift ever that you should give it a go once in your lifetime.